Buddy Ebsen (2 April 1908 – 6 July 2003), born Christian Rudolph Ebsen Jr., was the actor who was originally cast as the Tin Woodman in the 1939 MGM film The Wizard of Oz.
At the time the movie was begun, Ebsen was in the second year of his second two-year contract with MGM, and was making $1500 per week. Ebsen was a talented dancer who'd had a noteworthy career on the stage. By 1939 he had appeared in eight films, and had danced with Judy Garland in the finale to Broadway Melody of 1938. He was originally intended for the role of the Scarecrow, but was eventually cast as the Tin Man and was involved in early filming in October 1938. On 21 October, nine days into the filming, he suffered a severe bronchial reaction from breathing the aluminum dust used in the character's makeup. He was hospitalized for two weeks, and recuperated at home for a month after.
Ebsen was replaced by Jack Haley, and aluminum paste was substituted for aluminum dust in the Tin Man's makeup. All of the scenes in which Ebsen appeared were re-shot with Haley, so that Ebsen does not appear in the finished film; yet his voice occurs at one point in the soundtrack, when he, Ray Bolger, and Judy Garland sing "We're Off to See the Wizard" after the Tin Man has been lubricated back to life.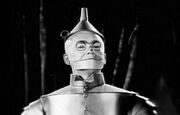 Ebsen returned to the MGM studio on December 13, to work not on the Oz project but on a movie called Four Girls in White.
He went on to a long career, and achieved late fame in the TV series The Beverly Hillbillies and Barnaby Jones. Ironically, although the makeup mishap nearly cost him his life, Buddy Ebsen outlived all the major cast members of the film by many years.
Fictionalized
Curiously, Ebsen was eventually turned into a fictional character: he meets Dorothy Gale, Betsy Bobbin, and Trot in March Laumer's The Vegetable Man of Oz (1990).
References
John Fricke, Jay Scarfone, William Stillman. The Wizard of Oz: The Official 50th Anniversary Pictorial History. Warner Books, 1989.
Aljean Harmetz. The Making of the Wizard of Oz. New York, Knopf, 1977.