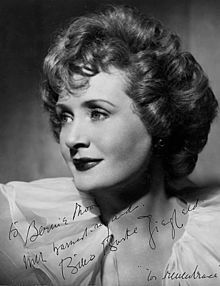 Billie Burke (7 August 1884 – 14 May 1970), full name Mary William Ethelbert Appleton Burke, was the actress who played Glinda the Good Witch of the North in MGM's 1939 film The Wizard of Oz.
She was the daughter of Billy Burke, a famous clown of his generation, and drew her nickname Billie from him. She was also Mrs. Florenz Ziegfeld. She had a long stage career, beginning in London when she was 18 and in New York at 22. Her career in silent films began in 1916. She retired from acting in 1921, after her 1919 marriage to Ziegfeld, but returned to work after the stock market crash of 1929. Her career continued after 1939; she was in 25 films during the 1940s. Her career faded somewhat after that peak, but she remained active; she played her final screen part at the age of 75, in John Ford's Sergeant Rutledge in 1960.
Burke had previously appeared with Judy Garland in Everybody Sing (1938). She played with Frank Morgan in three films of the 1936–40 years.
Community content is available under
CC-BY-SA
unless otherwise noted.