Bert Lahr ( August 13 1895 –  December 4 1967), born Irving Lahrheim, was the actor who portrayed the Cowardly Lion and the farmhand Zeke in MGM's 1939  classic The Wizard of Oz, and appeared in many other MGM Films.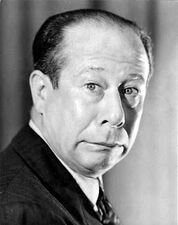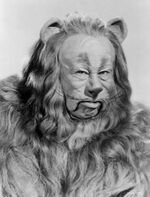 Lahr's contract with MGM specified a salary of $2500 per week, and involved haggling over its minimum duration: MGM offered five weeks of employment, while Lahr held out for, and won, a minimum of six weeks. In fact, he was employed at that salary for the several months of the film shoot.
Lahr's costume for the role of the Cowardly Lion (made from a genuine lion's skin) was famously hot and uncomfortable. It weighed over fifty pounds; the actor sweated profusely under the hot lights needed for filming in Technicolor. After each take, Lahr's wig and costume had to be removed and dried with blow dryers, and Lahr himself cooled down before he could be redressed for the next take.
The costume's facial prosthetic kept Lahr from eating as long as he wore it; he drank soup through a straw. Yet the costume was a vast improvement over earlier treatments. (In the films of Baum's Oz Film Manufacturing Company, actors playing animals wore full-head masks like sports mascots at college football games.) At first, the makers of the MGM film had not been sure how to realize the Cowardly Lion character; their solution allowed Lahr to give a funny and touching performance.
Lahr improvised the line "Unusual weather we're havin', ain't it?" in the poppy field scene of the film.
He had a long career in vaudeville, Burlesque, and Broadway. He was nominated for a Tony Award in 1963, and won the award in 1964. He appeared in 18 Broadway shows from 1927 to 1964.
Lahr had previously appeared with Jack Haley in Mr. Broadway (1933), and with Charley Grapewin in No More West (1934).
he was also the spokesman for Lays potato chips (betcha you can't eat just one)

Lahr died from pneumonia bought on by cancer during production of his final movie role The Night They Raided Minsky's on December 4th 1967 at the age of 72
Videos
Gallery
References
John Fricke, Jay Scarfone, William Stillman. The Wizard of Oz: The Official 50th Anniversary Pictorial History. Warner Books, 1989.