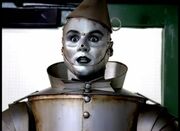 A series of two Beef Ravioli commercials featured the Tin Woodman as a protagonist. Both commercials had the theme of the Tin Man trying to escape from crowds of hungry children, since a Beef Ravioli label was fixed to his back.
The look and sound of the Tin Woodman is closely based upon that of the 1939 film.
First Commercial
The Tin Man is pursued by children, and ducks into a building for cover; only to find that the building is an elementary school full of hungry children.
Second Commercial
The children chase the Tin Man through a suburban neighborhood, then finally corner him. His cries for help are heard off-screen.
Community content is available under
CC-BY-SA
unless otherwise noted.