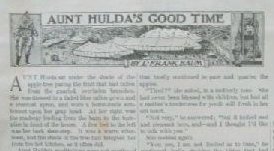 "Aunt Hulda's Good Time" is a short story written by L. Frank Baum — a story he wrote not once but twice.
The original version of the story was published in The Youth's Companion, a popular juvenile periodical that was printed in newspaper format. The story appeared on pages 522-523 of issue #43, dated 26 October 1899. More than a decade later, Baum revised the story and republished it as "Aunt 'Phroney's Boy" in the December 1912 issue of St. Nicholas Magazine.
Both versions of the story relate similar plots: a privileged young man meets and befriends an old farm woman and treats her to a special day. The earlier, "Aunt Hulda" version is quaint and sentimental: boy takes farm woman on his bicycle to see the circus. The revised, "Aunt 'Phroney" version has a harder edge: banker's son drives farm wife to the country fair in his horseless carriage (a kind of machine the woman had never seen before, let alone ridden in), where she realizes her husband's stinginess and dishonesty toward her, and self-indulgence toward himself. Then the young man buys the woman the warm winter coat she lacks. (The idea of giving someone a needed winter coat also occurs in Baum's "The Black Sheep.")
The first version of this story had one anonymous illustration; the revision in St. Nicholas bore pictures by George Avison. The original text was reprinted in The Baum Bugle in 1969.
Baum had a longstanding interest in the plight of farm women. An early poem on the subject, "Nance Adkins," appeared in his Aberdeen Pioneer on 1 March 1890. Baum reprinted that poem in his collection By the Candelabra's Glare (1898).