The Army of Revolt appears in L. Frank Baum's second Oz book titled The Marvelous Land of Oz, published in 1904. It is an Army comprised entirely of four hundred pretty young girls and led by General Jinjur. The Army successfully conquered the Emerald City of the magical Land of Oz and occupied it for a short time when the Scarecrow was the ruler.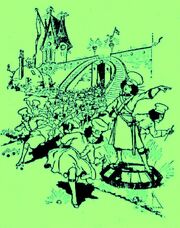 Appearance
"There was not an ugly face among the soldiers of the Army of Revolt, and their uniforms were also remarkably brilliant. The silken waist was emerald green, and the skirt had four distinct colors of blue, yellow, purple, and red with the color of each soldier's home country in front. It was fastened with four buttons of the same colors, with the top button being color of the girl's home country. For weapons, each girl carried two long, glittering knitting-needles stuck through the knot of her hair."
―The Marvelous Land of Oz (1904)
History
The Army of Revolt was assembled at the command of General Jinjur with the purpose of conquering the Scarecrow and taking the throne from him. They were unhappy that the Emerald City had been ruled by men for so long, and also thought that the gems which decorate the city could be better used for jewelry. They were confident of victory, knowing that no man would ever harm a girl.
They marched on the city and, by jabbing with their knitting-needles, were able to overcome the Guardian of the Gates and the Army of Oz. They occupied the captured city until Glinda arrived with Princess Ozma, the rightful ruler. Jinjur was captured, the army was disbanded, and the girls were sent home to their mothers. (The Marvelous Land of Oz)
Members of the Revolt
General Jinjur - Leader
Mombi - Chief Advisor
Plump Girl - Guardian of the Gate
and hundreds of others
Background
General Jinjur and the Army of Revolt are believed to have been intended as a satire of L. Frank Baum's mother-in-law, the suffragist/abolitionist Matilda Joslyn Gage, whose beliefs Baum shared.[1]
Community content is available under
CC-BY-SA
unless otherwise noted.