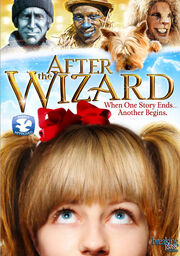 After the Wizard is a 2011 film which serves as a semi-sequel to The Wonderful Wizard of Oz with a girl named Elizabeth realizing that she might be Dorothy Gale as the Scarecrow and Tin Man come to visit her in Kansas.
Cast
Jordan Van Vranken as Elizabeth Haskens/Dorothy
Jermel Nakia as Scarecrow
Orien Richman as the Tin Man
P. David Miller as the Lion
Helen Richman as Mrs. Murphy
Loren Lester as Dr. Edwards
Peter Richman as Charles Samuel Williams
Sean Orr as Christopher 
Sue Giosa as Ms. Thompson
Nick Stellate as a Ticket Seller
Seraiah Carol as an Animal Shelter Attendant
Caecilie Carlsen as a Commuter
Laila and Tony Suarez as an arguing couple 
Bryan McGill as a Bus Driver
Pat Bracken as the Train Conductor
Train Passengers: Dawn Bradley, Dana Daniels, Sylvia Geiger, Joe Hammerstone, Tonette Holmes, Daniel Irwin, Zach Louis, and Devlin Wilder
New Jersey Schoolchildren: Abigail Bankston, Casey Burke, Brighid Fleming, Diana Malota, Anehita Okojie, and Emily Wachtel
Winged Monkeys: Alan Abeyta, Andrew D'Amico, Matthew Lange, Joseph Peterson, and Mike Romo
Trivia
At the end of the film, it is up to the viewer to judge if it was real or just in Elizabeth's imagination.
Community content is available under
CC-BY-SA
unless otherwise noted.