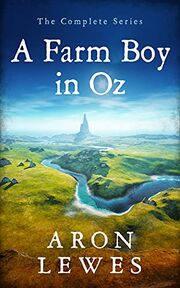 A Farm Boy in Oz is an alternate Oz book by Aron Lewes that was published on April 21st, 2021. It is entitled "The Complete Series" because it was intially released in two parts.
Description:
First and foremost, Dylan Gale is the caregiver of his dying mother. When he's not taking care of her, he single-handedly tends to the family farm. Well... not quite single-handedly. He gets a lot of help from his loyal terrier and good boy, Simon.
One fateful night, a storm sweeps through Kansas and whisks him away to the land of Oz. There, he meets a "good" witch named Glennis, who sends him on an "important mission" to save the people of Oz. He's actually murdering her sister, but he doesn't need to know that.
Along the way, he meets a foul-mouthed lady scarecrow, a cowardly knight wearing way too much armor, and an excessively polite robot named Ten.
Community content is available under
CC-BY-SA
unless otherwise noted.